Station Alert Information
WOODCREST BRIDGE REHAB PROJECT TRAVEL IMPACT

As the result of a Camden County rehabilitation project on the Woodcrest Bridge, riders exiting the Woodcrest Station parking lot will be unable to turn right onto Melrose Avenue to access Burnt Mill Road.

Drivers exiting the station on either Essex Avenue or York Avenue must turn left onto Melrose Avenue. Only one lane with one-way traffic towards the station entrance will be open on the Woodcrest Road Bridge as part of the county project.

A detour will be in place advising motorists attempting to access Burnt Mill Road to either travel through Lawnside to Route 30 or get onto Route 295N at exit 31 and travel to exit 32 to access Burnt Mill Road.

The pedestrian sidewalk will remain open during the rehab project.
BROADWAY STATION - WEST HEADHOUSE ENTRANCE CLOSURE NOTICE

Effective 10 p.m. on Friday, January 29, 2021 and until further notice, the West Headhouse Entrance at Broadway Station will be closed.

Customers can access Broadway Station through the Walter Rand Transportation Center entrance located directly across the street.

A new timetable will take effect on January 30 with slight time adjustments to accommodate passengers transferring from PATCO to the River Line at Walter Rand Transportation Center.

We are sorry for any inconvenience this may cause.
WOODCREST STATION CONSTRUCTION NOTICE

STATION CONSTRUCTION NOTICE:
Starting Monday, October 19, work will begin on the Stations Enchancement Project. Customers will be directed around the work area by temporary barricades and signs. This will be followed by underslab work in the main lobby.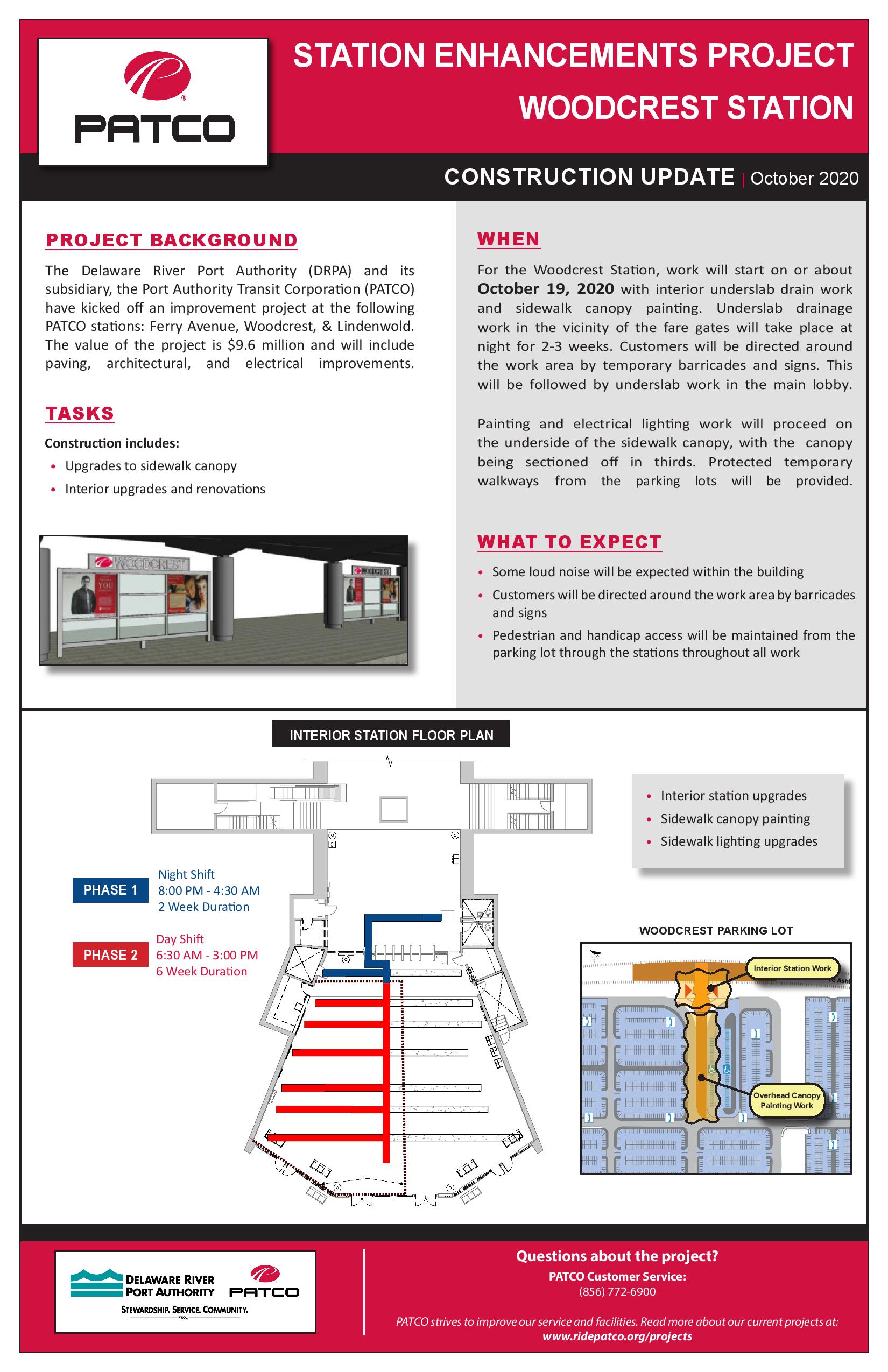 LINDENWOLD STATION PARKING AREA CLOSURE

Beginning 11/30/20, the parking lot areas highlighted in the graphic will be closed until further notice as the result of construction activities related to the solar energy project at the Lindenwold Station.